The moment has arrived!!  The BCCEJ 18th Annual Holy Convocation and we are looking forward to enjoying a wonderful time of fellowship and worship.  Please join us in full support of this glorious week.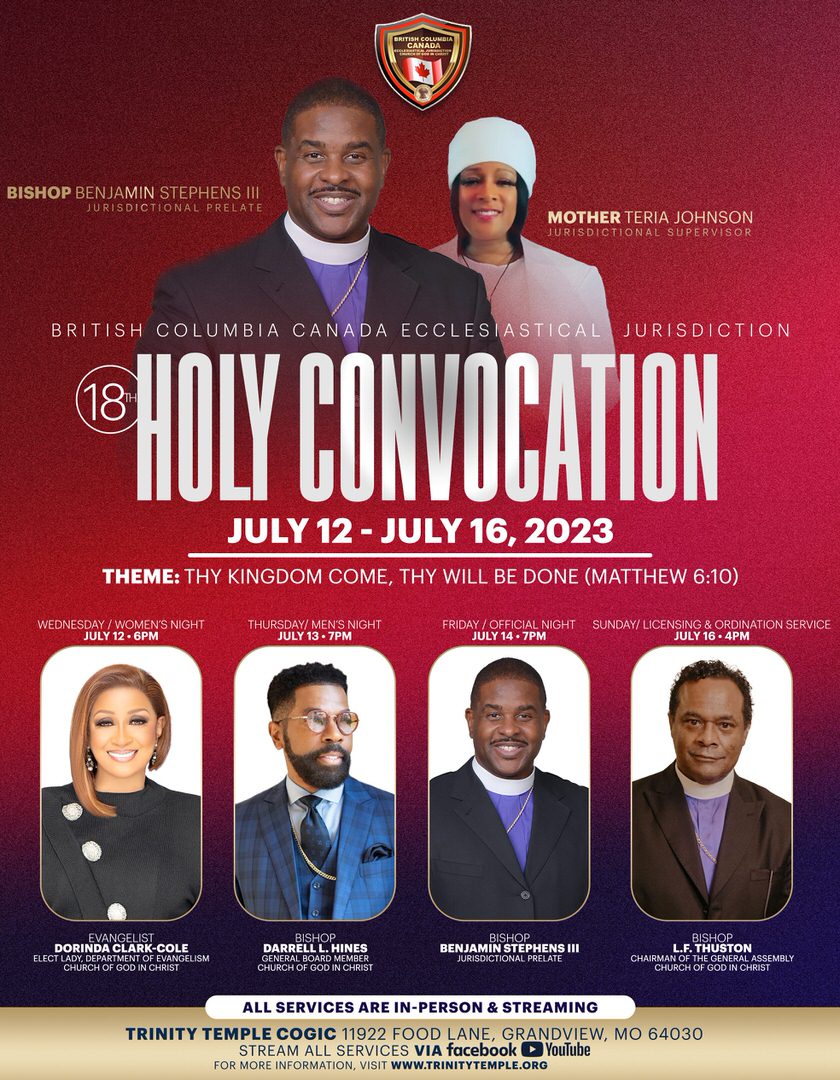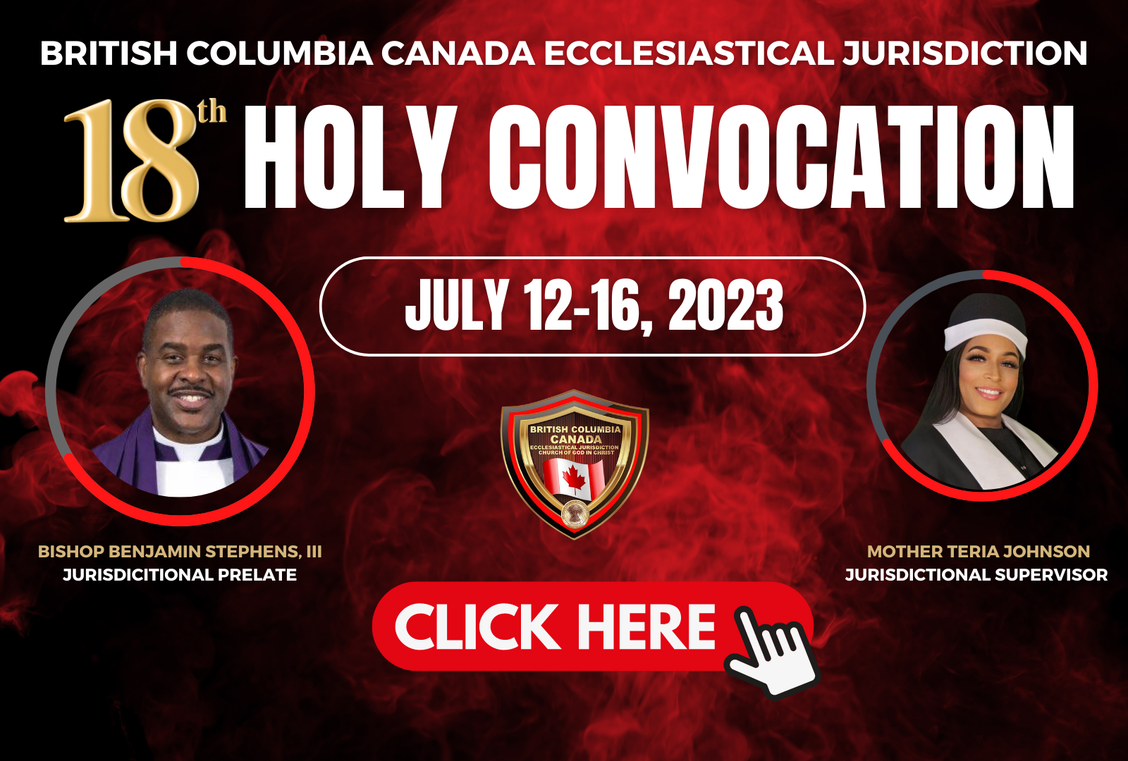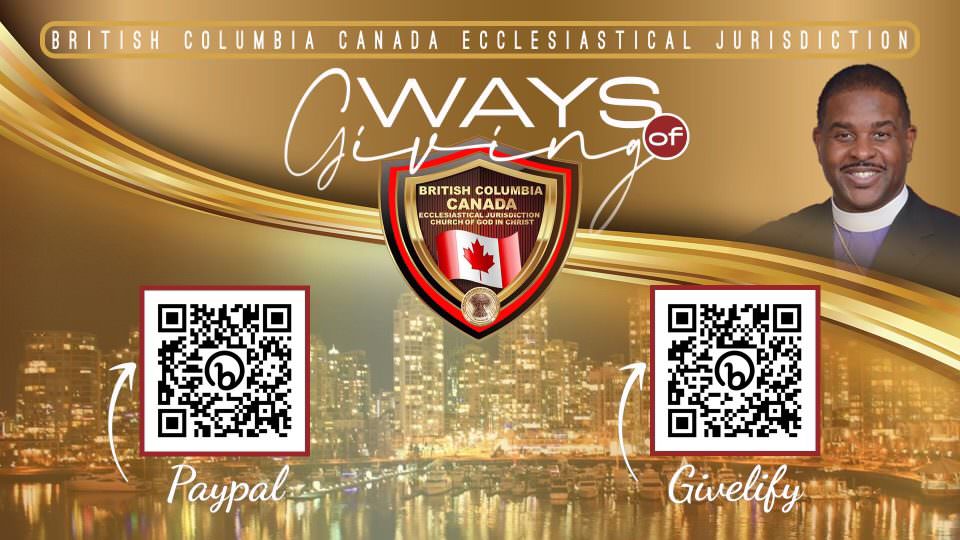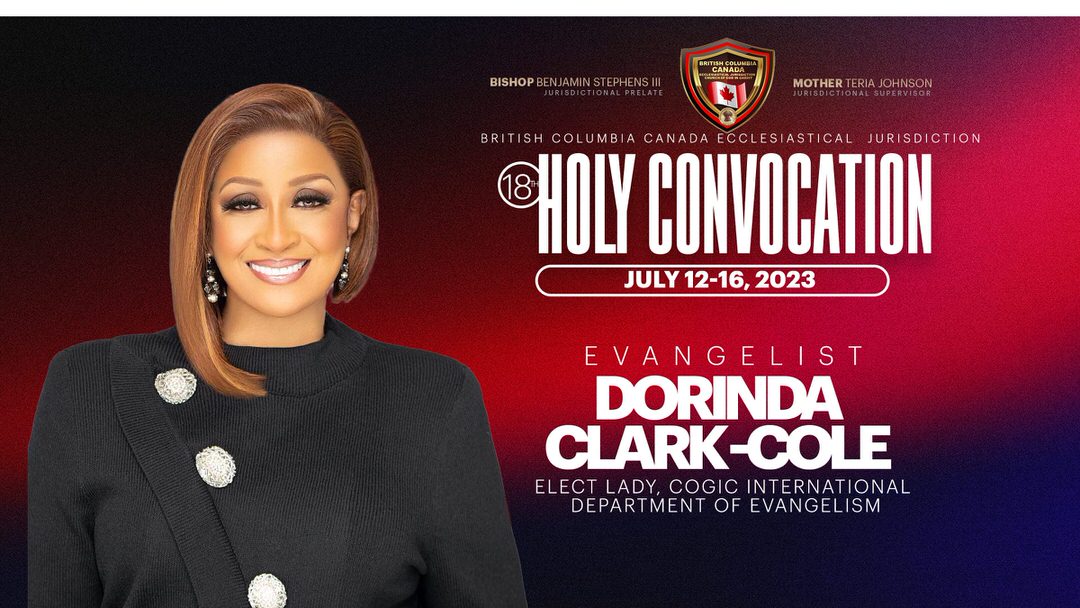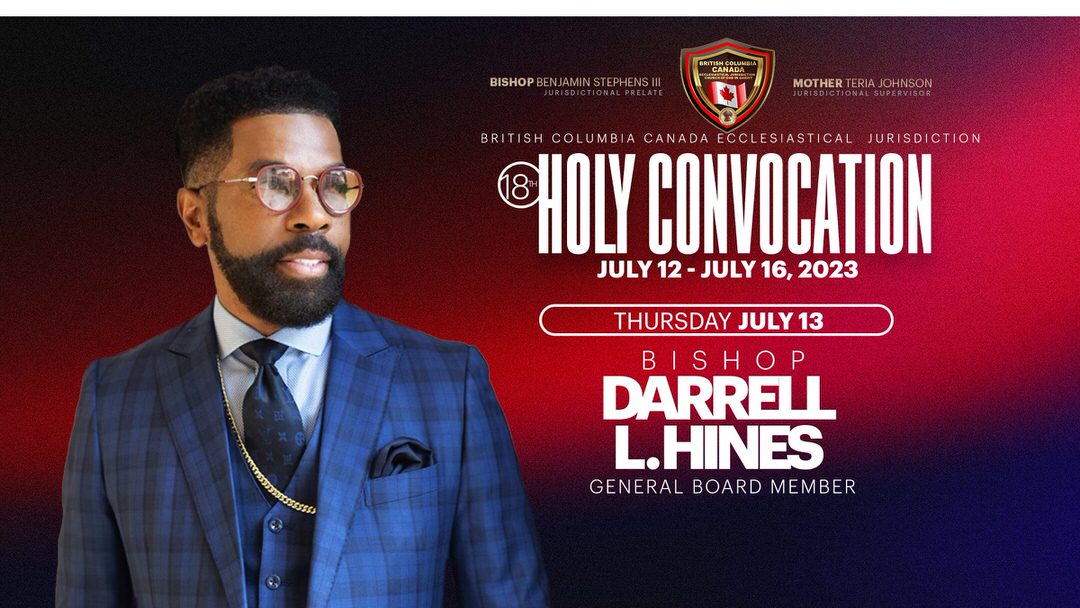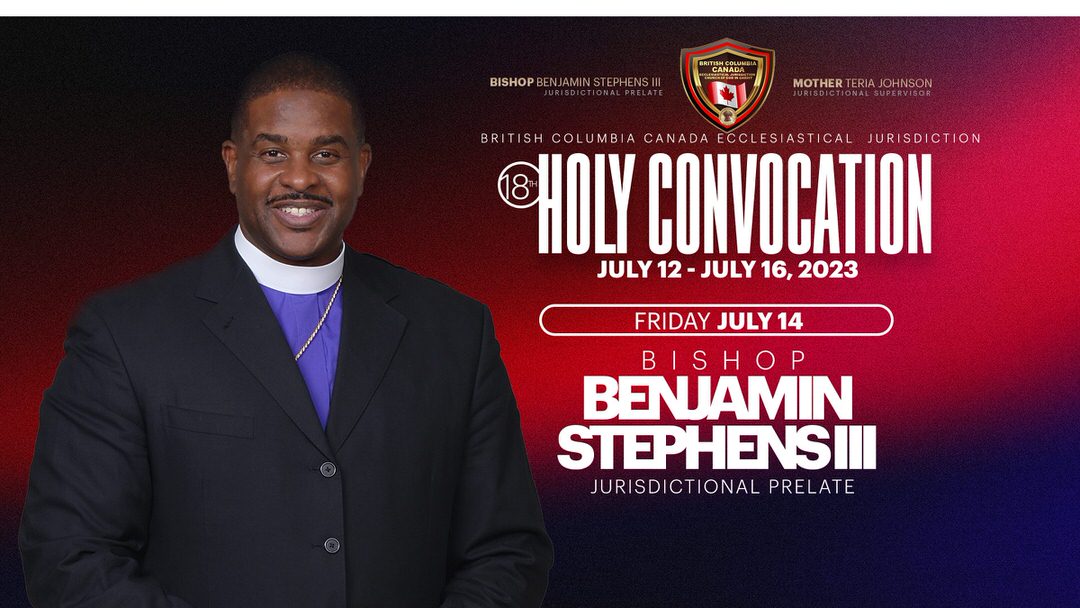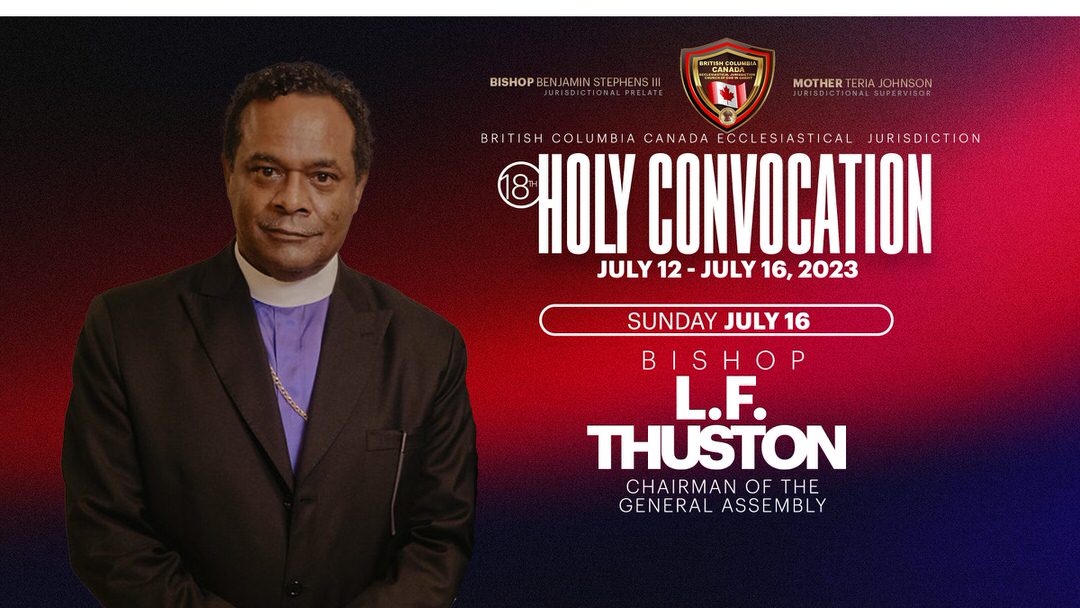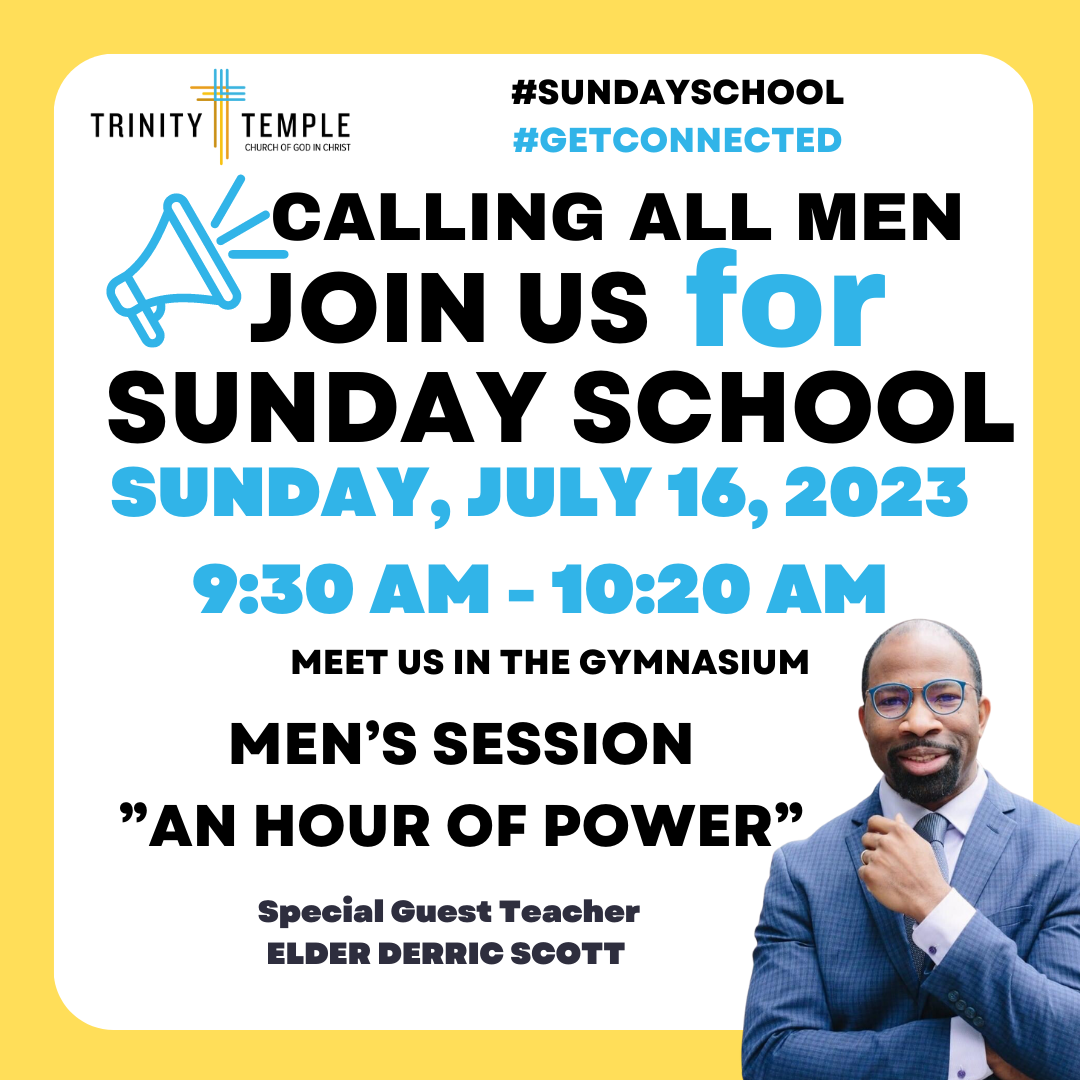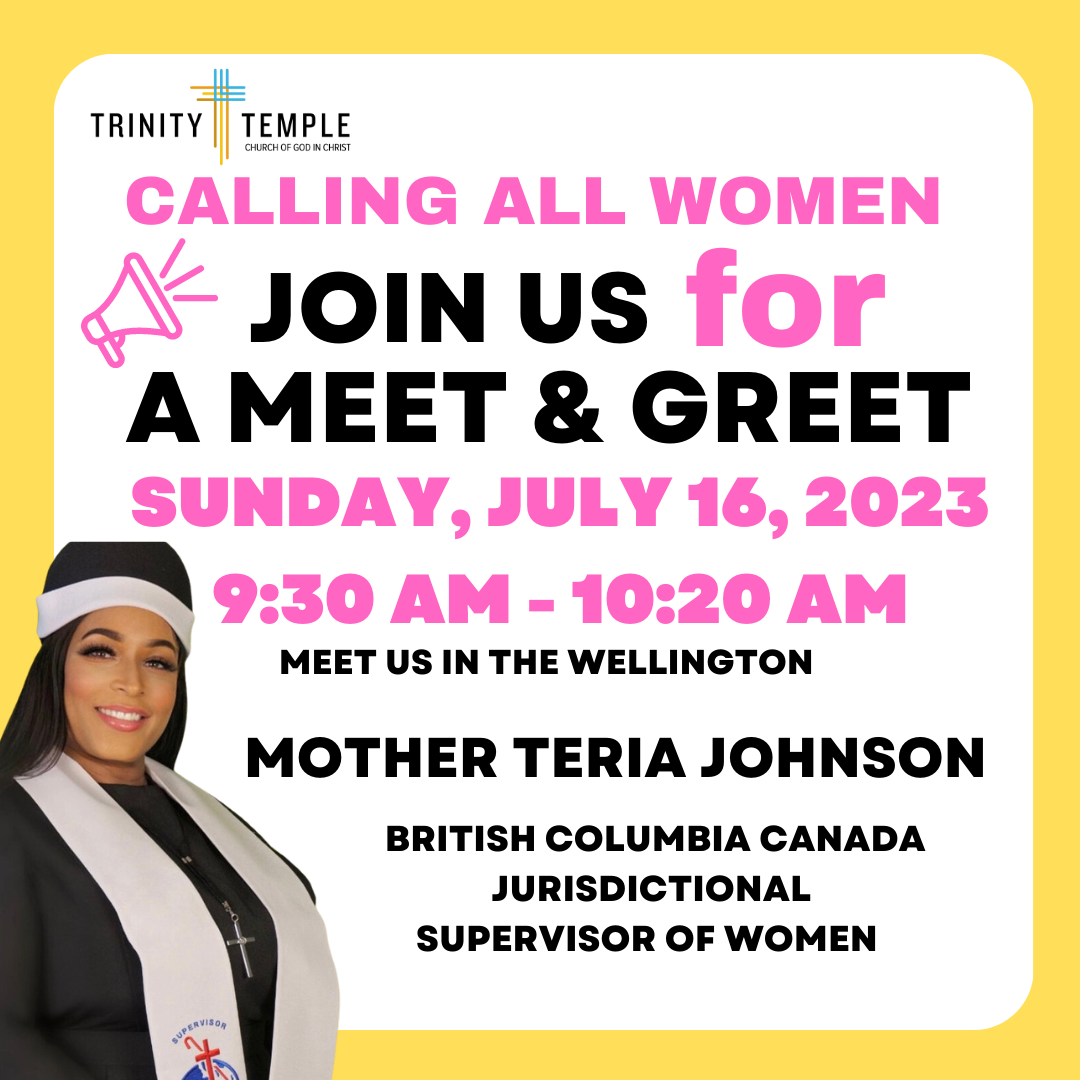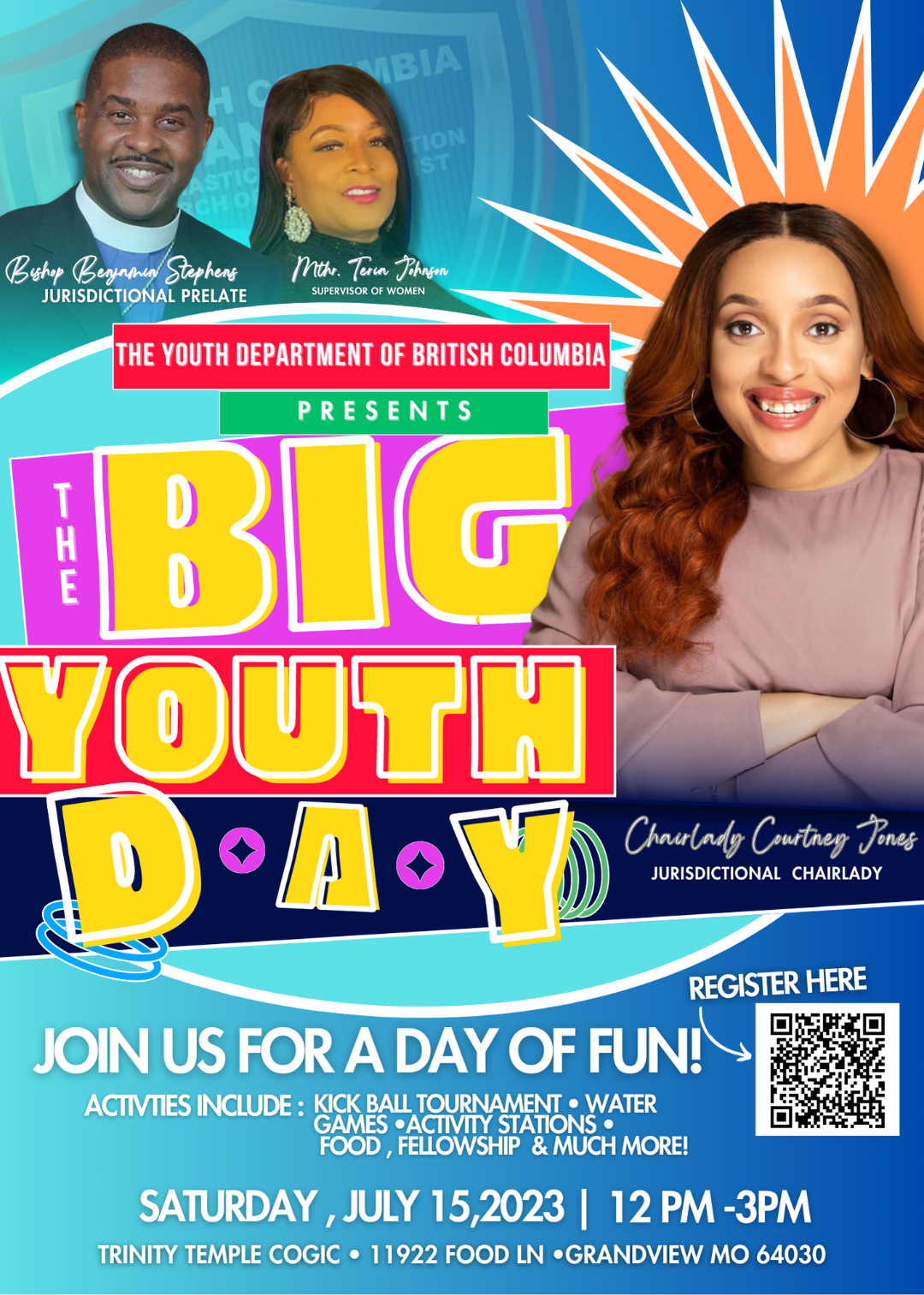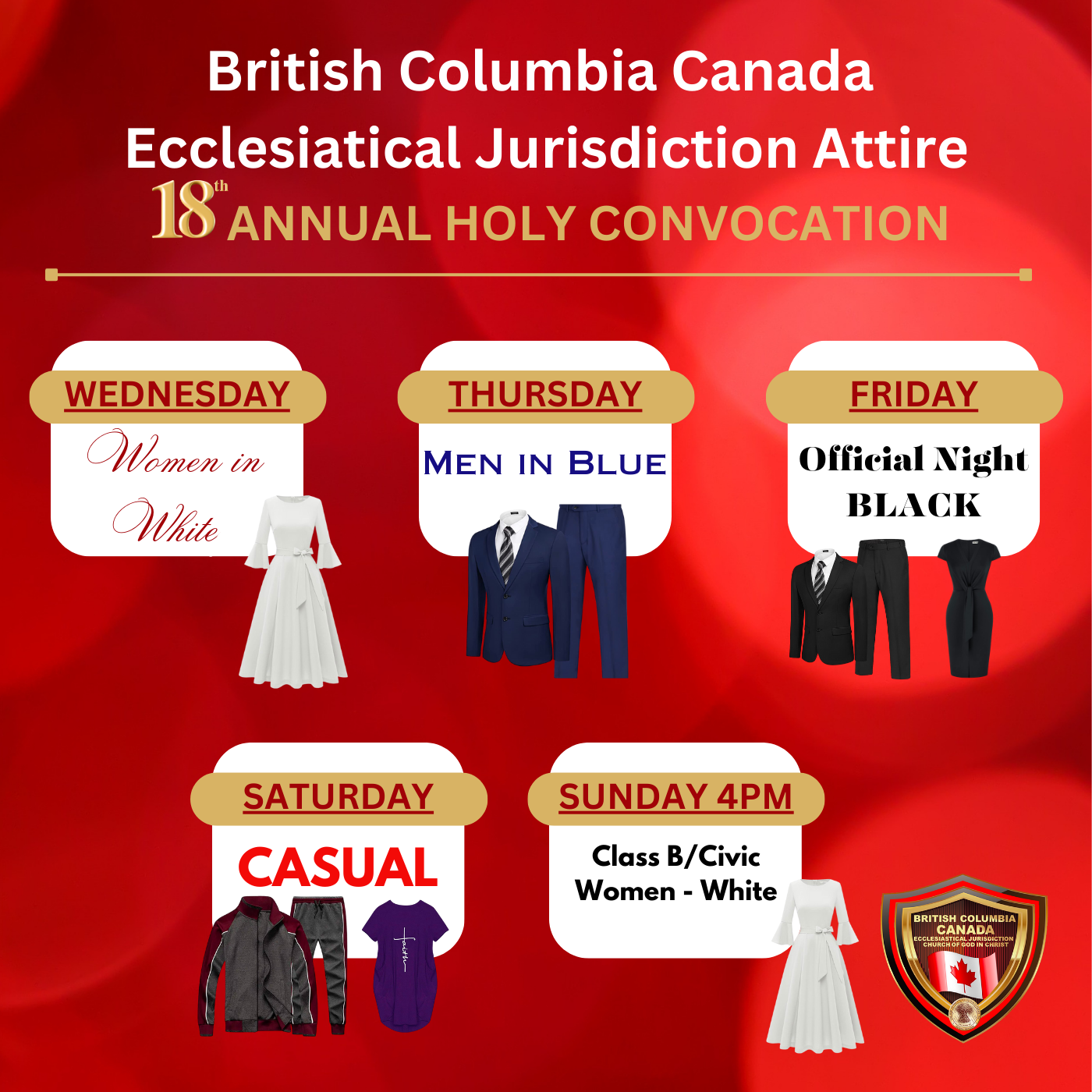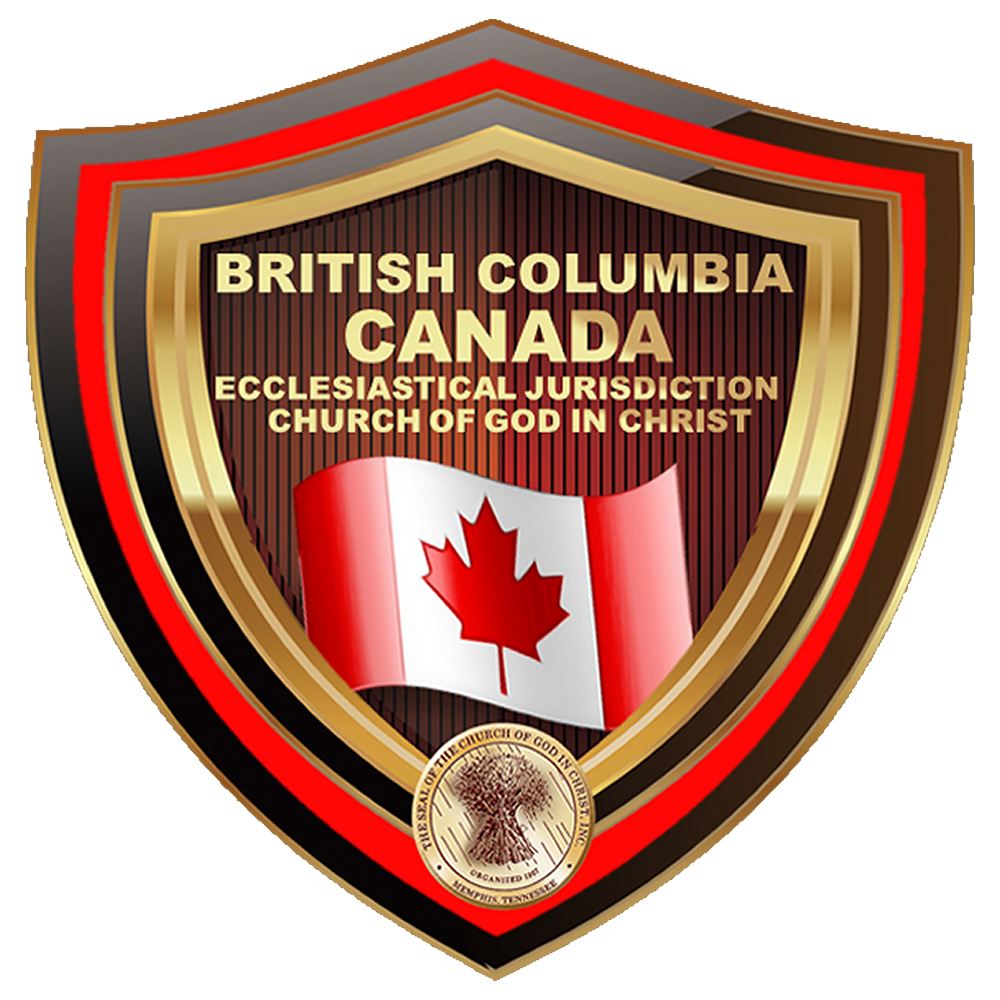 British Columbia Canada
Ecclesiastical Jurisdiction
Church of God In Christ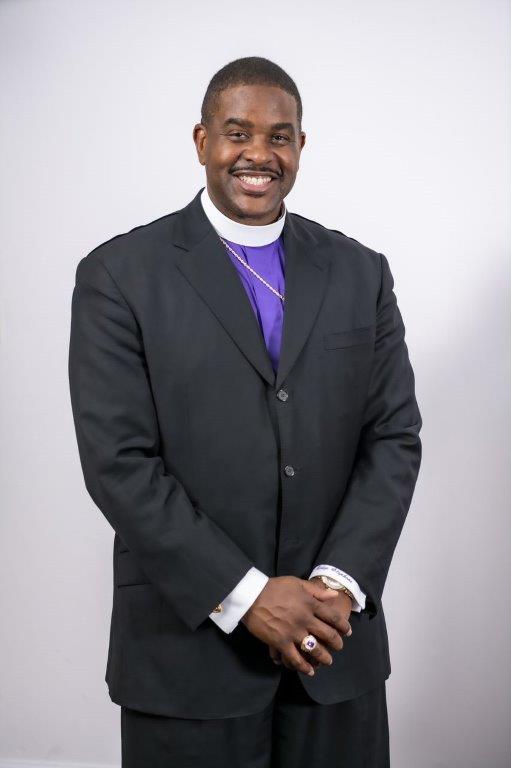 Bishop Benjamin Stephens, III
Jurisdictional Prelate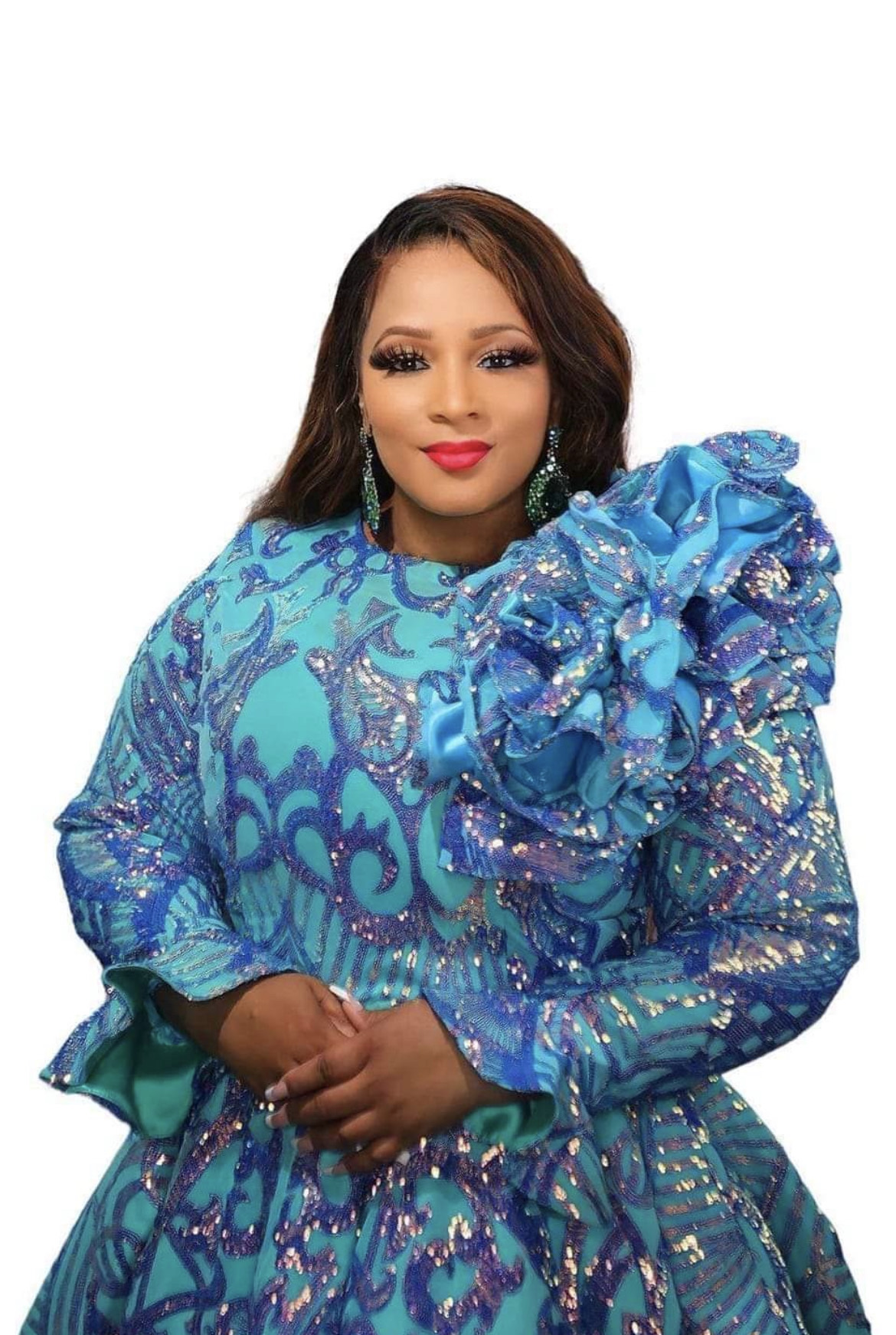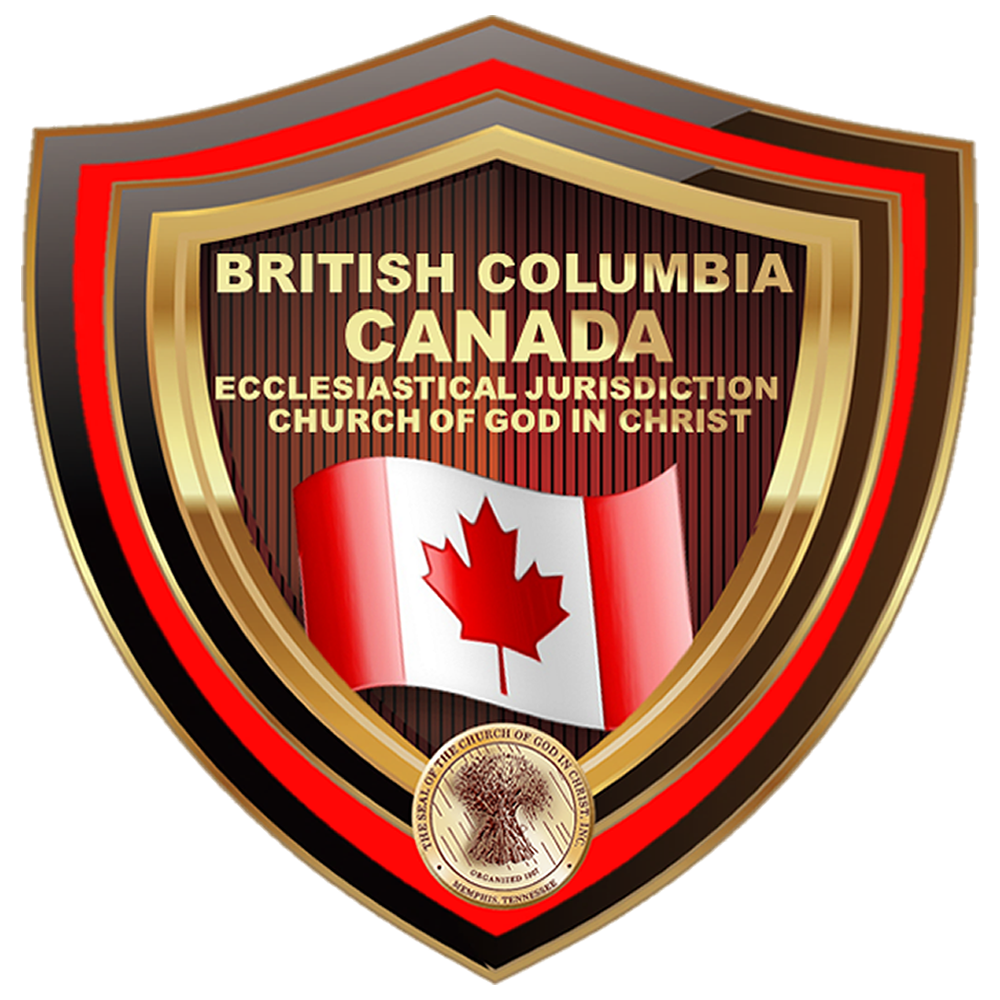 The Church of God In Christ (COGIC) is a Holiness Pentecostal Christian denomination, and the largest Pentecostal denomination in the United States. Although an international and multiethnic religious organization its international headquarters is in Memphis, Tennessee. The current Presiding Bishop is Bishop John Drew Sheard, Sr. who is the Senior Pastor of the Greater Emmanuel Institutional Church of God In Christ in Detroit, Michigan.
The church teaches three separate and distinct works of grace that God performs in the life of the believers: salvation, entire sanctification and the baptism or infilling of the Holy Ghost. The church declares to be evangelical in ministry, fundamental in doctrine and practice, and Pentecostal in worship and expression. COGIC theology and beliefs fall in the tradition of Wesleyan-Arminian theology.
The Church of God in Christ can be found in more than 100 nations with an international membership estimated between one to three million adherents in more than 13,000 churches, missions and outreaches. Its combined worldwide membership is estimated to be between six and a half and eight million, composing more than 25,000 congregations throughout the world. It is our goal to establish 200 churches in the British Columbia, Canada corridor under the leadership of Bishop Benjamin Stephens, III and Supervisor Teria Johnson.
Our Goal For Every Church
Know God
Experience the presence of God in our worship experiences.
Find Freedom
Grow in your relationship with Jesus and others.
Discover Purpose
Discover how God uniquely designed you for a purpose.
Make A Difference
Use your God-given gifts to make an impact in the lives of others.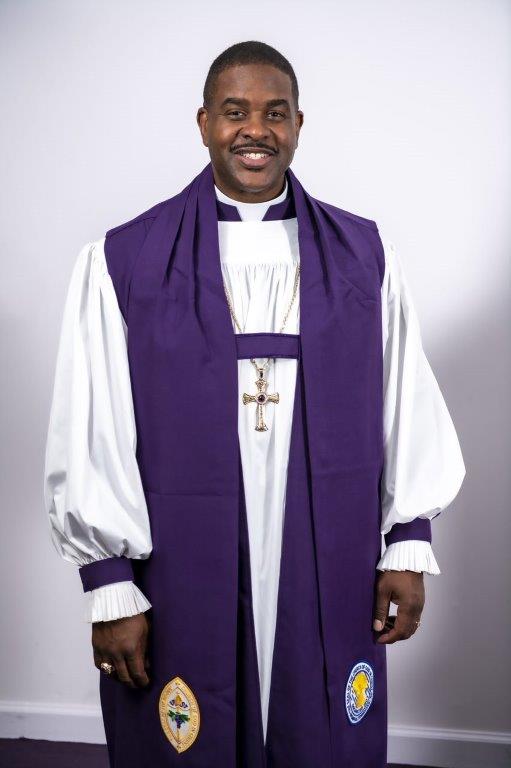 Bishop Benjamin Stephens, III
Bishop Ben Stephens is a lover of God and people. Called at the tender age of 14 to preach the gospel. He grew up in Inglewood, California and began ministry at his home church, the West Angeles COGIC, under the guidance of Presiding Bishop Emeritus Charles E. Blake Sr.
He served on staff there as Youth and Young Adult Pastor there for over 11 years. Pastor Stephens has an extensive educational background, culminating with a Masters in Divinity from C. H. Mason Theological Seminary at the Interdenominational Theological Center in Atlanta, GA, and a Doctorate degree in Youth and Family Ministry from Fuller Theological Seminary.
Married to the love of his life, Latonya Stephens and they share a handsome and witty son, Ben IV. By the leading of the Holy Spirit in 2011, he was called to Trinity Temple COGIC in Grandview, MO and has been serving this thriving community for over 10 years. Under his leadership, the church has grown exponentially. In addition to the pastoral call, he serves as a Bishop in the International Church of God in Christ to British Columbia Canada Ecclesiastical Jurisdiction as Prelate. Bishop Stephens commitment is to preach the Gospel of Jesus Christ and love people to life in the process.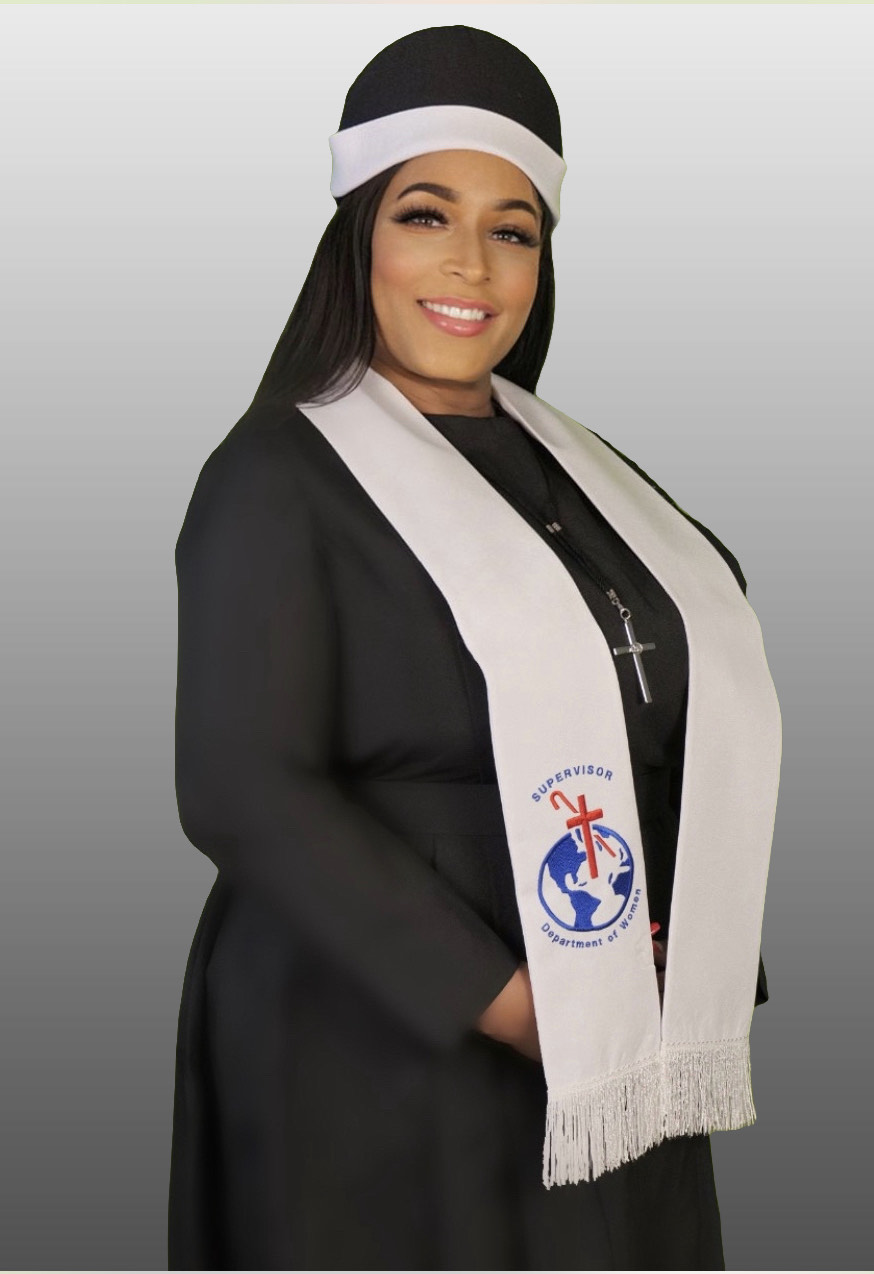 Jurisdictional Supervisor of Women
Supervisor Teria Johnson is a native New Yorker. She is a dynamic, energetic and anointed speaker of the Gospel of Jesus Christ. She is the President, Founder and Leading Lady of "The P.E.A.R.L." Annual Women's Conference. She is also the Servant Leader and Shepherdess of the Temple of Deliverance Church in Albany, NY.
As an evangelist, teacher, facilitator, and community leader, Supervisor Johnson has been instrumental in providing support to many community vitalization programs. She has focused her gifts and talents towards ministering to the masses that have not yet come to know Jesus Christ!
In ministry for over thirty years; Supervisor Johnson has traveled extensively preaching the Word of God. Her unique presentation of the Gospel has enabled her to minister to many denominations and organizations.
God has granted her favor in secular arenas where she has had the honor of serving in prominent positions in the New York State Assembly, the New York Association of Black and Puerto Rican Legislative Caucus and the NYS Senate.
Ultimately, Supervisor Johnson has a burden for the souls of all men and women. With a lifetime goal to lead many to Christ and to empower them to live fruitful and victorious lives.
Be Part of Something Greater!
Let us be your guide to growing your impact and your church.
Evangelize
To proclaim the Gospel Message encouraging one to establish a personal relationship with Jesus Christ along with a pursuit for the Pentecostal Experience "The Holy Ghost".
Engage
Establish a collection of Kingdom-minded Pastors and Ministries with the following intent. 
Equip
Provide trainings, tools, and resources to foster and facilitate growth (of the Pastor and the local church.
Excellence
Ensure the Spirit of Excellence at all times.
Edification
Prayer, Praise, Worship, and Working.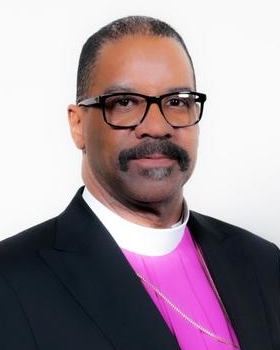 Bishop J. Drew Sheard Sr.
Presiding Bishop / Chief Apostle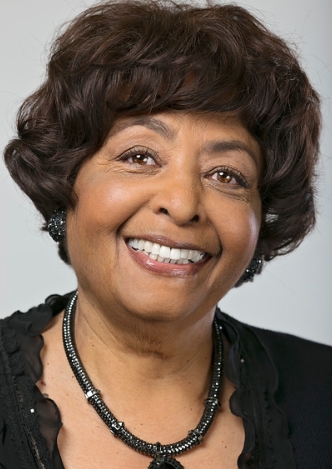 Mother Dr. Barbara McCoo-Lewis
General Supervisor to Women
Contact Us
Ready To Make A Difference? Let's Build This Thing Together!
Jurisdictional Headquarters
11922 Food Lane
Grandview, MO 64082